INFORMATION ON CANCER SIGN
CANCER/KARKATAKA [CRAB]
Date range: June 21 – July 22
Element: Water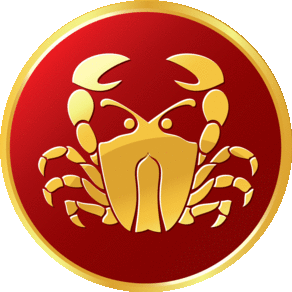 Quality: Cardinal
Day: Monday, Thursday
Spirit Color: Violet, White
Polarity: Negative
Ruling Planet: Moon
Ruling House: Fourth
Lucky Gem: Ruby, pearl
Lucky Numbers: 2, 3, 15, 20
Top Love Matches: Taurus & Pisces
Greatest Overall Compatibility: Cancer, Scorpio, Capricorn and Pisces
Cancer Traits
Deeply intuitive and sentimental, Cancer can be one of the most challenging zodiac signs to get to know. They are very emotional and sensitive, and care deeply about matters of the family and their home. Cancer is sympathetic and attached to people they keep close. Those born with their Sun in Cancer are very loyal and able to empathize with other people's pain and suffering.
The sign of Cancer belongs to the element of Water, just like Scorpio and Pisces. Guided by emotion and their heart, they could have a hard time blending into the world around them. Being ruled by the Moon, phases of the lunar cycle deepen their internal mysteries and create fleeting emotional patterns that are beyond their control. As children, they don't have enough coping and defensive mechanisms for the outer world, and have to be approached with care and understanding, for that is what they give in return.
Lack of patience or even love will manifest through mood swings later in life, and even selfishness, self-pity or manipulation. They are quick to help others, just as they are quick to avoid conflict, and rarely benefit from close combat of any kind, always choosing to hit someone stronger, bigger, or more powerful than they imagined. When at peace with their life choices, Cancer representatives will be happy and content to be surrounded by a loving family and harmony in their home.
Cancer – the Brave Crab Sent to this Earth by something they believe in, only to mess with someone bigger than they are, this isn't an animal aware of their strength. Patriotism can make them endanger their own well being, fighting for someone else's cause, as if others can become their higher power. The Crab knows where they're going, but this is often in a wrong direction, at least until they learn their lessons and start relying solely on themselves.
Cancer Health
The Cancer natives mostly enjoys good health, but because they are not very active, there is a danger of gaining too much weight, especially if they are involved in a sedentary job. It would do them a world of good if they took up a sport like badminton or make it a practice to go for long walks. Crabs are also very sensitive and can be temperamental, which in the long run can cause anxiety. It is not very difficult for someone to upset them. They need to learn to remain calm under all circumstances.
A little effort in this direction would save them a lot of niggling health hassles. Anatomically Cancer corresponds to: Breasts, chests, stomach, pancreas and thoracic duct; breast bone, the ribs that are nearest to the stomach; muscles between the ribs, muscles used in breathing; diaphragmatic arteries; mammary, gastric, gastro-epiploric and diaphragmatic veins
Cancer Man
A Cancer man is conservative just enough to know that initiative is important, but often fails to show it before he feels safe to do so. His partners need to make the first move, but still doing it subtly to let him still feel like he is leading the way. This is a complex individual, very sensitive, shy and overly protective of his loved ones. When he prefers women, he will subconsciously search for the ideal wife and mother.
A Cancer man is an emotional person, who loves to take care of other people. He wants to feel needed, and protective, receiving a lot of attention from his partner through kind words and subtle concerns and compliments to make his day. Although he can be moody, pessimistic and clingy, he is a creative and generous partner in search for someone to share a life with.
Cancer Woman
Cancer personality can be quite complicated, but deep inside they are home-loving and conservative people. A Cancer woman is vulnerable, emotional, and not likely to quickly fall in love. Once her trust is earned, she will be passionate and loyal. In order to seduce her, one has to be proactive and make the first move, respecting her need to be treated like a lady. She is not the right choice for someone in search for a one-night stand, and needs more from her partner than just casual encounters. Romantic and ready to love, this woman needs a romantic partner who believes in love, while also in tune with her unspoken feelings.
Despite her cautious nature, a Cancer woman is deeply erotic and when feeling secure to show her true personality and emotions, they will be expressed through an incredible sex life. To have lasting relationship with a Cancer woman, she needs someone faithful, respectful and honest, for doesn't forget betrayal and becomes very rigid and unpredictable when hurt.
Love And Romance
Cancer is a very emotional sign, and feelings are the most important thing in their relationships. Gentle and caring, they will show their sensibility to the world without even thinking they might get hurt. For partners, they always choose a person who is able to understand them through non-verbal, silent contact, and a shared daily routine, and their affection won't last long with superficial, flaky or unreliable partners. The lack of initiative these individuals suffer from won't make it easy for them to build a sex life they wish for, if they don't find a partner who is able to make them feel calm, protected, and free to express. 
Sensitive and emotional, the Cancer take great pleasure in the comforts of their home and family, and are at their best when all is peaceful on the domestic front.The Cancer romance those people who may be exactly opposite to them in nature. They are extremely attracted to people who have a lot of self-confidence, are strong and hold high positions. 
This is a dedicated sign, ready to make many unhealthy compromises only to keep their image of a family going, and could choose partners who are in a way selfish of abusive. Shared responsibility and a life together with their partner makes them feel secure and ready for the next step in life, no matter if it is a child, a new job, or simply a cleanup in the field of friendships and relationships that became obsolete or hurtful. In love with children, parenthood, marriage and traditional values, they can still be misguided by people they admire and trust into changing their honest approach to a modern one that doesn't fit their true personality.
Friends And Family
Friends – When it comes to friendships, Cancer representatives will gladly connect with new social contacts, but are extremely sensitive of people not approved by their closest surrounding. Filled with respect for people they communicate to easily, they see all contacts through their emotional prism rather than simple curiosity or status. Most of all they enjoy socializing at home, where intimate atmosphere can be made and deep understanding shared in circumstances under their control. Intuitive and compassionate, they are sometimes impossible to understand from an extremely rational point of view.
Family – Cancer is the sign of family and these individuals care about family bonds and their home more than any other sign of the zodiac. Deeply sentimental, they tend to diligently preserve family memories, keeping them intact for years. When their personal lives are fulfilled, they make wonderful, caring parents that seem to know how they children feel even when they are miles apart.
Career And Money
When a job needs to get done, a Cancer will roll their sleeves up and finish it successfully. If they are left alone to work, they usually perform better than when surrounded by other people, loyal to their employer and focused on the task. They will have great careers as nurses, housekeepers, gardeners, politicians and decorators.
For Cancer representatives, security and money are of great importance and stand for the real reason they work as much as they do. They easily earn money and aren't used to spending it all in one day. It is their goal to save, invest, and watch their investments grow daily. Resourceful and good at managing time and finances, this is a sign that is often in charge of all money in the household, keeping their partner or other family members under control.
Moon in Cancer
With the moon in Cancer, individuals are extremely sensitive and feelings are of utmost importance to them. These individuals like to be in touch with their feelings and have the knack of figuring out the feelings of others quite well. In other words, they are very intuitive. Nobody can beat their power of memory. They yearn for familiarity and security and tend to have a tight grip on their home, their familiar surroundings, their family and friends and even their possessions.
They prefer peace and are afraid of change. Cancer can be prone to mood swings and this makes others clueless about how to deal with them. However, they have a unique perspective about life and tend to value their relationships. These people are extremely sensitive in nature. They also exhibit great amounts of creativity in them and if they don't have their own artistic talents, they certainly possess the eye of appreciating the arts minutely. They tend to feel uncomfortable when in an unfamiliar territory or situation.
Strengths: Tenacious, highly imaginative, loyal, emotional, sympathetic, persuasive, intuitive, intelligent, passionate
Weaknesses: Moody, pessimistic, suspicious, manipulative, insecure
Cancer likes: Art, home-based hobbies, relaxing near or in water, helping loved ones, a good meal with friends
Cancer dislikes: Strangers, any criticism of Mom, revealing of personal life
….  ….