INFORMATION ON VIRGO SIGN
VIRGO/KANYA [THE VIRGIN]
Date range: August 23 – September 22
Element: Earth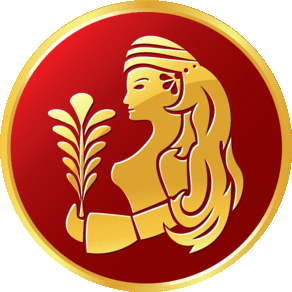 Quality: Mutable
Day: Wednesday
Spirit Color: Grey, Beige, Pale-Yellow, Silver
Polarity: Negative
Ruling Planet: Mercury
Ruling House: Sixth
Lucky Gem: Peridot
Lucky Numbers: 5, 14, 15, 23, 32
Top Love Matches: Cancer
Greatest Overall Compatibility: Virgo, Taurus, Capricorn, Pisces
Virgo Traits
Virgos are always paying attention to the smallest details and their deep sense of humanity makes them one of the most careful signs of the zodiac. Their methodical approach to life ensures that nothing is left to chance, and although they are often tender, their heart might be closed for the outer world. This is a sign often misunderstood, not because they lack the ability to express, but because they won't accept their feelings as valid, true, or even relevant when opposed to reason. The symbolism behind the name speaks well of their nature, born with a feeling they are experiencing everything for the first time.
Virgo is an Earth sign, fitting perfectly between Taurus and Capricorn. This will lead to a strong character, but one that prefers conservative, well-organized things and a lot of practicality in their everyday life. These individuals have an organized life, and even when they let go to chaos, their goals and dreams still have strictly defined borders in their mind. Constantly worried that they missed a detail that will be impossible to fix, they can get stuck in details, becoming overly critical and concerned about matters that nobody else seems to care much about.
Since Mercury is the ruling planet of this sign, its representatives have a well-developed sense of speech and writing, as well as all other forms of communication. Many Virgos may choose to pursue a career as writers, journalists, and typists, but their need to serve others makes them feel good as caregivers, on a clear mission to help.
Virgo – the Disappointed Goddess Seeking goodness in humankind is the story of Virgo, and disappointment seems to be inevitable from their point of view. The first time they came from their cloud and jumped onto planet Earth, it felt like their mission is to use their existence for good, discovering ways of justice and purity in other people. Once they fail to find it too many times, Virgos will pull away, get lost, turn to substance abuse, or simply separate from other people to sit on the bench, criticize and judge.
Virgo Health
The Virgos are very health conscious and exercise moderation and balance in their diet, as they do in everything else, so it is seldom that they fall sick. This also acts as an automatic defence mechanism against obesity, and its attendant problems. But their problem areas are their lungs, hips, bowels and the nervous system. They can be obsessive worriers which is a sure shot way to psychosomatic disorders.
They need to take it easy and learn to let go things that cause the anxiety. Anatomically Virgo corresponds to: Bowels or abdomen; rectal and abdominal muscles; arteries serving the digestive system, particularly the intestine; intestinal veins. 
Virgo Man
To seduce a Virgo man, one must respect his need for cleanliness and order. In most cases he enters romance slowly, carefully, and likes to take his time getting to know a person before starting anything serious. When he receives information on what to expect, his partner has to be sure to deliver nothing less. A Virgo man might put up a cool front, but don't let him fool you. He has deep and sensual needs, and only if his partner is patient enough, able to withstand his tendency to over analyse everything, he will eventually warm up.
It takes obvious and hard work to sweep a Virgo man off his feet. He needs a partner to inspire, remind him of his own talents, and will often find such a person in platonic and completely irrational spheres. In search for someone honest, patient and tidy, he is always ready to settle down with the right person for a very long time.
Virgo Woman
A Virgo personality is a mix of intelligence, attention to detail, common sense, and commitment, and a woman born with her in this sign is very smart, modest, and capable. Trying to seduce this woman can seem intimidating at first, for she is likely to put on a facade of indifference. However, she is not cold but practical, realistic and cautious when it comes to starting new relationships. She will never simply give herself to someone without assessing their character and emotions shared with her from the beginning.
She doesn't, under no circumstances, fall under a category of spoiled, materialistic women. As all Earth signs she will enjoy the material world and see any gift she gets as a blessing, but still truly enjoy things only when they are extremely practical and easy to use, digest, or when in need of fixing. Attracted to intelligent but distant personalities, a Virgo woman has a strong capacity to love, but chooses to wait for sharing emotions until she is ready. Private and defensive, this is someone who needs her defence mechanisms respected but still broken by the right partner.
Love And Romance
The sign of Virgo leads Venus to its tragic fall and speaks of one's inability to feel worthy, beautiful, or lovable. Compatibility of Virgo with other zodiac signs is mostly based on the ability of their partner to give them all the love they need to start feeling safe and open up enough to show their soft, vulnerable heart. They will rarely have direct statements of love, but intimacy brings out all of the beauty of their emotional self-expression.
A Virgo will prefer a stable relationship than having fun, casual lovers, except if they become one, using their charm and superficial communication to win hearts without ever investing their own. Methodical and intellectually dominant, each Virgo seems to have an equation in their mind that their partner has to follow.
They will rarely have many sexual experiences with different people, for they need to feel important to someone and find real physical pleasure in order to give their whole self to someone. The sign of Virgo is easily attached to the symbolism of a virgin, but the truth is their quality is mutable, and their need for change often overcomes their self-imposed restrictions and moral boundaries when it comes to sex.
Trust needs to be built with Virgo, slowly, steadily and patiently, and each partner they have in life has a chance to be nurtured and cared for, but only if they give enough to deserve special treatment of Virgo. Although, the Virgo are grounded and are rather humble and easy going, they also do enjoy material possessions. Their greatest strength is in their practicality, sharp mind and attention to detail coupled with their willingness to serve.
Eminently sensible and the ability to use their critical eye well, the Virgo often fall prey to hypochondria because of extreme nervousness. Many of them face psychological problems, as the Virgo-born tend to be compulsive worriers. Balanced and fair in their assessments, the Virgins don't get unnecessarily swayed by emotions and even when sentiments run high, they manage to keep a cool head.
Friends And Family
Friends – Virgos are excellent advisors, always knowing how to solve a problem. This can make them helpful and extremely useful to have around, but also brings out their need to search the problem in everything and everyone around them. They will care for people they build a solid relationship with, treasuring them for years and nurturing them in every possible way. An intimate friendship with a Virgo is always earned by good deeds.
Family – People born with their Sun in Virgo are very dedicated to their family and attentive to elderly and sick people. They understand tradition and the importance of responsibility, proud of their upbringing and everything that made their mind be as dominant as it is.
Career And Money
Virgos are practical, analytical and hard-working, always knowing exactly where to look for the core of any problem. Their methodology makes them shine at jobs that require good organization, dealing with paperwork, problem solving and working with their minds and their hands. When they focus, perfection is to be expected from their work, for no other sign has such an eye for details as Virgo. In love with books and artistic expression, they make good critics, while their need to help humankind serves them best if they decide to become doctors, nurses or psychologists.
Virgo stands for all practical and used things, and it is in the nature of these individuals to save money and always put something on the side. They will see irrational spending as a bad habit or a matter of being spoiled, and always hold on to practical solutions that don't cost much. Unfortunately, this approach can sometimes make them a bit cheap and too concerned about everything they might lack tomorrow. They need to learn to indulge in some hedonism too.
Moon in Virgo
Individuals with the moon in Virgo are usually simple in nature and prefer to live a quiet life without the glare of public eye. They look for small things in their life to seek happiness and contentment. It is the small and insignificant matters in life like plucking flowers from a garden that give them real happiness. It is in their basic nature to not only take care of themselves, but to take care of others as well.
Thus, such individuals are of extremely helpful nature and will be first to lend a helping hand to those in distress. These individuals love to have a routine in their life. They cannot do without a routine and if it is missing in their lives, they tend to feel that something is amiss in their life and they are not in their true elements due to it. They tend to act in a fussy manner and are often labelled as complainers as they cannot function properly without having a routine in their life. 
Strengths: Loyal, analytical, kind, hardworking, practical
Weaknesses: Shyness, worry, overly critical of self and others, all work and no play
Virgo likes: Animals, healthy food, books, nature, cleanliness
Virgo dislikes: Rudeness, asking for help, taking center stage
….  ….