Bagalamukhi Mahavidya
Color – Yellow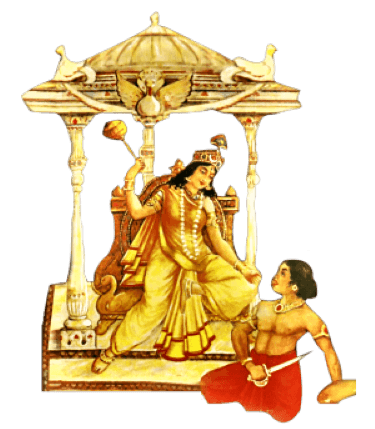 Flower – Yellow
Special day – Tuesday
Shiv (initiating light) – Ekvaktra Mahaarudra
Raatri (energy of Shiv) – Veerraatri
Worshipped for – victory in legal case, victory over enemies, win the heart of your loved one.
Beej Mantra – Hreem or Hlreem ( ह्रीं or ह्लीं )
Direction – South
Goddess Bagalamukhi is the Eighth of the Dasa Mahavidya. Her name is the combination of Bagala and Mukhi. Bagala, which is distortion of the original Sanskrit root Valga, means bridle.
The headgear used to control a horse is known as bridle. Hence Bagalamukhi means the Goddess who has the power to control and paralyze the enemies. Due to her capturing and paralyzing powers She is also known as Devi of Stambhana.
Bagalamukhi Origin – As per legends, when a huge storm erupted over the earth which threatened to destroy the whole of the creation, all the Gods assembled in the Saurashtra region and prayed to the Goddess. When appeased by the prayers of the Gods, Goddess Bagalamukhi emerged from the Haridra Sarovara and calmed down the storm.
Bagalamukhi Iconography – Goddess Bagalamukhi has a golden complexion. She sits in a golden throne in the midst of an ocean of nectar full of yellow lotuses. A crescent moon adorns her head. She is portrayed in yellow dress. She has two arms. She holds a club in her right hand with which she beats a demon while pulling his tongue out with her left hand. This image is interpreted as an exhibition of Stambhana, the power to stun or paralyze an enemy into silence. This is one of the boons, for which devotees worship Goddess Bagalamukhi.
Bagalamukhi Sadhana – Bagalamukhi Sadhana is done to defeat and paralyze the enemy. She is also worshipped to win the court cases and to get success in all sorts of competitions.
Bagalamukhi Mantra Sadhana – Mahavidya banglamukhi mantra sadhana should be done with complete purity and without mistakes. You should face west north corner and sit in same direction also. For doing banglamukhi mantra sadhana you should do the banglamukhi pooja, prayers and worship and then do the banglamukhi mantra and in last do hawan and aarti. It is best ritual if someone is doing the tantrik karma or black magic over you. For doing banglamukhi mantra sadhana use the turmeric made rosary and after ritual hang it over peepal tree. Minimum 5001 banglamukhi mantra important with hawan.
॥ ॐ ह्लीं श्रीं ह्लीं पीताम्बरे सर्व बाधा नाशय नाशय ह्लीं श्रीं ह्लीं ॐ ॥
॥ Om Hlreem Shreem Hlreem Pitambare Sarwa Baadha Nashaye Nashaye Hlreem Shreem Hlreem Om ॥
Bagalamukhi Mool Mantra – 
॥ ॐ ह्लीं बगलामुखी देव्यै ह्लीं ॐ नमः ॥
॥ Om Hleem Bagalamukhi Devyai Hleem Om Namah ॥
Bagalamukhi Mantra List –
Ekakshari Bagalamukhi Mantra (1 Syllable Mantra)
॥ ह्लीं ॥
॥ Hleem ॥
Tryakshar Bagalamukhi Mantra (3 Syllables Mantra)
॥ ॐ ह्लीं ॐ ॥
॥ Om Hleem Om ॥
Chaturakshar Bagalamukhi Mantra (4 Syllables Mantra)
॥ ॐ आं ह्लीं क्रों ॥
॥ Om Aam Hleem Krom ॥
Panchakshar Bagalamukhi Mantra (5 Syllables Mantra)
॥ ॐ ह्रीं स्त्रीं हुं फट् ॥
॥ Om Hreem Streem Hum Phat ॥
Ashtakshar Bagalamukhi Mantra (8 Syllables Mantra)
॥ ॐ आं ह्लीं क्रों हुं फट् स्वाहा ॥
॥ Om Aam Hleem Krom Hum Phat Svaha ॥
Navakshar Bagalamukhi Mantra (9 Syllables Mantra)
॥ ह्रीं क्लीं ह्रीं बगलामुखि ठः ॥
॥ Hreem Kleem Hreem Bagalamukhi Thah ॥
Ekadashakshar Bagalamukhi Mantra (11 Syllables Mantra)
॥ ॐ ह्लीं क्लीं ह्लीं बगलामुखि ठः ठः ॥
॥ Om Hleem Kleem Hleem Bagalamukhi Thah Thah ॥
Bagalagayatri Mantra
॥ ह्लीं बगलामुखी विद्महे दुष्टस्तंभनी धीमहि तन्नो देवी प्रचोदयात् ॥
॥ Hleem Bagalamukhi Vidmahe Dushtastambhani Dhimahi Tanno Devi Prachodayat ॥
Bagalamukhi Devi Temples –
Bagalamukhi devi temples are also very few in India. I mentioned here some of the main temples.
Pappankulam – South It is a small village in Tirunelveli district of Tamil nadu State. Sree Bagalamukhi Devi Temple is here. Pappankulam is 9kms from Ambasamudram and 4kms from Kalladaikurichi Railwastation.
Nalkhera – It is a nagar Panchayat in Shajapur district of Madhya Pradesh State. Bagalamukhi Temple is here. Nalkhera is 36kms from Agar and 107kms from Ujjain.
Sameli – It is a small village in Kangra District of Himachal Pradesh State. Bagalamukhi Temple is here. This temple is 25kms from Kangra on Ranital-Dehra road.
Aligarh – It is the district headquarter in Uttar Pradesh State.Maa Bagalamukhi Temple is here in Biharipuram. This temple is 4kms away from Aligarh Railway Station. Aligarh is 135kms from New Delhi and 64kms from Mathura.
Tewar – It is a small village near Kachnar city in Jabalpur district of Madhya Pradesh State. Bagalamukhi Temple is here. This temple is just 16kms from Jabalpur city.
Ludhiana – It is a district head quarter city in Punjab State. Ma Bagalamukhi Mandir is here in Vivek Dham Colony. This temple is just 6kms from Ludhiana Junction Railway Station. Ludhiana is 96kms from Chandigarh and 60kms from Jalandhar.
Raigarh – It is the district headquarter city of Chhattisgarh State. Bagalamukhi Mandir is here. This temple is just 1.5km from Raigarh Railway Station. Raigarh is 54kms from Sarangarh.
Haridwar – It is the pilgrimage temple in Uttarakhand State. Maa Bagalamukhi Siddh peeth is here near Bhagiradhi Vidyalayam (Deva Samkriti Viswavidyalam beside road).
…. 


….