Dasa Mahavidya Sadhana Vidhi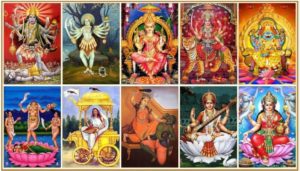 There are  four Navaratri in the year, out of which 2 are public and 2 are secret.
1.Magha Navaratri in the month (January–February) for 9 days Gupt (secret) Navratri.
2.Chaitra Navaratri in the month (March–April) for 9 days come at the time of Ram Navami.
3.Ashada Navaratri in the month (June–July) for 9 days Gupt (secret) Navratri.
4.Aswayuja Navaratri in the month (September–October) for 9 days come at the time of Dussehra.
Dasa Mahavidya Sadhana Vidhi is very divine and powerful ritual which specially for all kind of human problem which we see around us in the life and suffer a lot from it and sometime feel helpless and worried and we feel blind and feel dark around us and do not get any hope and live with tears and sadness but worries are not solution for any problem.
In this world if there is any problem so there is a solution for it also but due to the weak knowledge about our ancient worships rituals and remedies we do not get answered and we suffer till long time and loose everything but if you know the solution, know the truth and know the way of cure so easily you can remove a tough problem which looks impossible for you.
Dasa Mahvidya Sadhana is the solution for all kind of problem which can remove health, wealth, money, black magic, tantra badha, misfortune, trouble and even every problem from the sadhak life but for doing it. we request you to learn basic principles for rituals and their method before doing the dasa mahavidya mantra sadhana vidhi.
During navratri dasa mahavidya sadhana is very beneficial for everyone also in gupt navratri so for doing it you need to do simple dasa mahavidya mantra every day in 10 days of navratri do the 10 different goddess mantra and hawan to get their blessing to have your life peaceful, happy and successful.
Dasa Mahavidya Yantra
Directions of Dasa Mahavidya :-
South – Bagalamukhi, Bhairavi
East – Chhinnmasta
West – Bhuvaneshwari
North-East (Ishanya) – Shodashi
South-East (Agneya) – Dhumavati
South-West (Nairutya) – Kamala
North-West (Vayavya) – Matangi
Know The Benefits of Worship Dasa Mahavidya Sadhana Ritual….
1.Kali – removes the death, fear, black magic, tantra mantra and ghost spirit also destroy misfortune, trouble.
2.Tara – wealth, family happiness, peace at home, peace of mind, to get child.
3.Shodashi – Bring immortal young personality and keep you free from disease and weakness.
4.Bhuvaneshwari – Wealth, happiness in family, prosperity and stability in business, while building house, office etc.
5.Bhairavi – removes all kind of illusions, confusions, vashikaran effect over you and make you free from tantra baadha, obstacle and make mentally stronger than everyone.
6.Chhinnmasta – destroy enemies, fear, make you winner everywhere, remove all kind of obstacle and mental tensions.
7.Dhumavati – gives prosperity, wealth, happiness, remove diseases, pain, all kind of planet problem and misfortune in life. No energy can defeat the worshiper of Dhumavati.
8.Bagalamukhi – is capable to destroy all your known unknown and hidden enemies, Bring all success and happiness in life.
9.Matangi – to acquire supernatural powers, especially gaining control over enemies, attracting people to oneself, acquiring mastery over the arts and gaining supreme knowledge.
10.Kamala – gives all kind of wealth, success, happiness in life, fill your life with luxuries and comforts.
In 10 Day's complete short rituals every day of Dasa Mahavidyas and get their blessing. Also in sadhana there are viniyog and nyas mantra which you can get from your guru for doing the Sadhana. If you seriously want to do the Dasa Mahavidya short rituals and Sadhana so for that take the permission from your guru also get the complete information about ritual to understand it in more clear way and after that try to do the Sadhana. In the Dasa Mahavidya Sadhana always follow the rules and regulations and never compromise with it.
People who are doing Mahavidya Sadhana in Navratri should live on Fruits and Palahaar only. They should wear favorite color of goddess each day 24 hours. For example, at first day wear black cloth favorite for goddess kali. Masturbation, non veg food, alcohol, egg, onion, garlic should be avoided also maintain purity of mind and speak less and try to live silent and always remember your deity and pray for yourself.
…. 


….